Royal Festival Hall, London
Les Martyrs
Quite simply, this concert performance of Donizetti's grand opéra Les Martyrs has been my operatic highpoint of the year. It was co-promoted by Opera Rara and The Orchestra of the Age of Enlightenment under the baton of Sir Mark Elder and followed a week of studio recording sessions, the CDs and download being scheduled for release in April 2015.
The performance was important in three ways. Firstly, it was superb. Secondly, it confirmed Les Martyrs as a great and moving opera. Thirdly, we heard some music never before performed, now available in a new critical edition edited by Flora Willson for Ricordi.
Elder loves this repertoire and he drew excitement, precision, lyricism and drama from all his forces. Every tempo sounded natural, nothing was exaggerated and nothing was understated. Instrumental solos, particularly those for bassoons and clarinet, were exquisite; the period orchestra sounded refined or savage as required – Berlioz' Grande Messe des Morts meets Aida. His cast responded admirably. Polyeucte was sung by Michael Spyres, who commands both the French style and its high tessitura wonderfully. His cabaletta "Oui, j'irai dans leurs temples!" with its climactic high E (written in the score) brought down the house. But for me, the preceding cantabile "Mon seul trésor, mon bien supreme" was the high spot of the whole evening, sung with superb grace, control and pianissimos. His wife Pauline was Joyce El-Khoury who equally commanded her role, whether in legato or coloratura passages, with her tone warm, pure and gleaming throughout its range. Ideally I would wish for a slightly tighter vibrato from David Kempster as Sévère, though he coped superbly with the high tessitura of this fascinatingly complex role. Basses Brindley Sherratt as Félix and Clive Bayley as Callisthènes were excellent; Wynne Evans as Néarque and the excellent Opera Rara chorus made their mark.
Donizetti wrote Les Martyrs for Paris, reworking his opera Poliuto that for censorship reasons was not given in Naples. The reworking not only involved translating the text from Italian to French, but also the addition of new material to words by Scribe, and altering the existing material to conform to current French taste. Thus orchestration was enlarged, new recitatives were written, the role of the chorus was expanded giving more opportunities for scenic display, and a ballet included (compulsory for a grand opéra in Paris in 1840). This concert included only one of the ballet movements, though all will appear on the recording. So which is preferable, Poliuto or Les Martyrs? Some will prefer the relative concision of Poliuto and will say that the big moments of Les Martyrs are already there in the earlier work. But really they are two different operas that thanks to the French language, new structures and new orchestration inhabit different sound worlds. I was totally convinced by this Les Martyrs. Acts I and II have most of the newly composed music, much of it heightened expressive recitative and I was amazed how quickly those two long acts passed. My French-speaking companion was approving of the cast's diction, helped no doubt by Opera Rara's language coaching.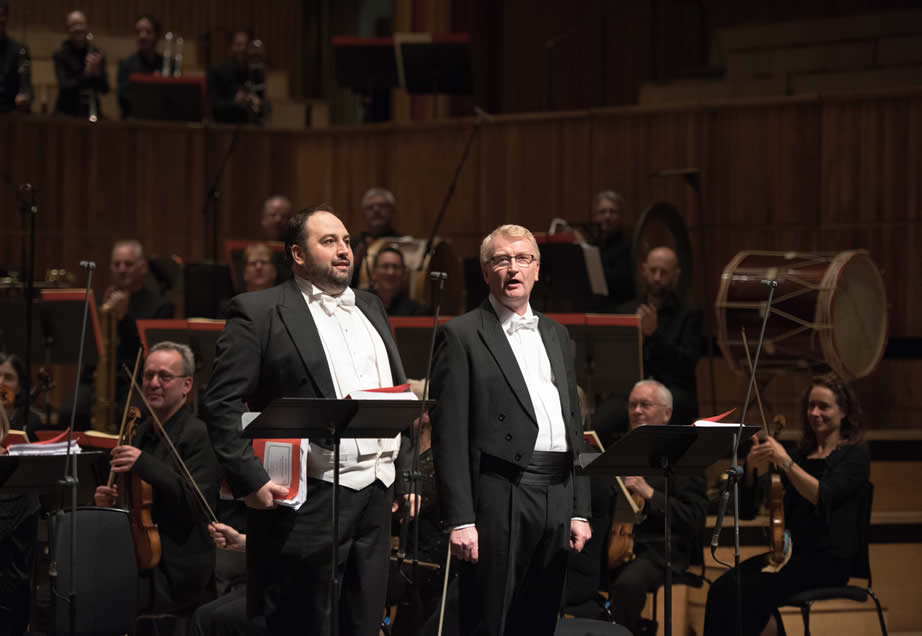 Les Martyrs has been revived before: London (in concert) and Bergamo in 1975, Venice (1978), Nancy (1996) and Reggio Emilia (1997). This concert performance did more than just revive a neglected masterpiece. It included four passages cut by Donizetti before the premiere and so never heard before now. There are 26 bars of extra recitative before Pauline's Act I aria and 12 bars of arioso for Polyeucte near the start of his duet with Pauline in Act IV, both beautiful. 156 bars cut from the trio with chorus near the end of Act I were not exhumed though they appear in the new vocal score, but there was performed a single page inserted just before the cabaletta to the Act III duet for Pauline and Sévère that didn't make it. Perhaps the most important of these new passages is the 96 bars (some seven minutes of music) between the two verses of Sévère's cabaletta in which Polyeucte goads Sévère in a terse dialogue, Paulina and Néarque plea for restraint, Callisthènes thunders against the insults to his pagan gods and all pray to their own gods in an ensemble introduced by a mini-aria for Polyeucte, before Sévère bursts in afresh with his anguished cabaletta repeat.
The Bergamo and Venice performances have appeared on CD and a very few copies are available through Amazon, though at vast price. The Venice performance under Gelmetti with Garaventa, Gencer and Bruson, has miserable sound, some wretched orchestral playing, much inaccurate ensemble (Gencer particularly guilty), a couple of upward transpositions in the tenor's cabaletta (to compensate for leaving out several of the highest notes?), some cuts and the substitution of much Italianate can-belto for impassioned French nobility and taste. On the basis of this concert, the recording from Opera Rara will correct all this. I can't wait for its release.
Alan Jackson
18/11/2014
Photo-credit: Opera Rara/Russel Duncan.